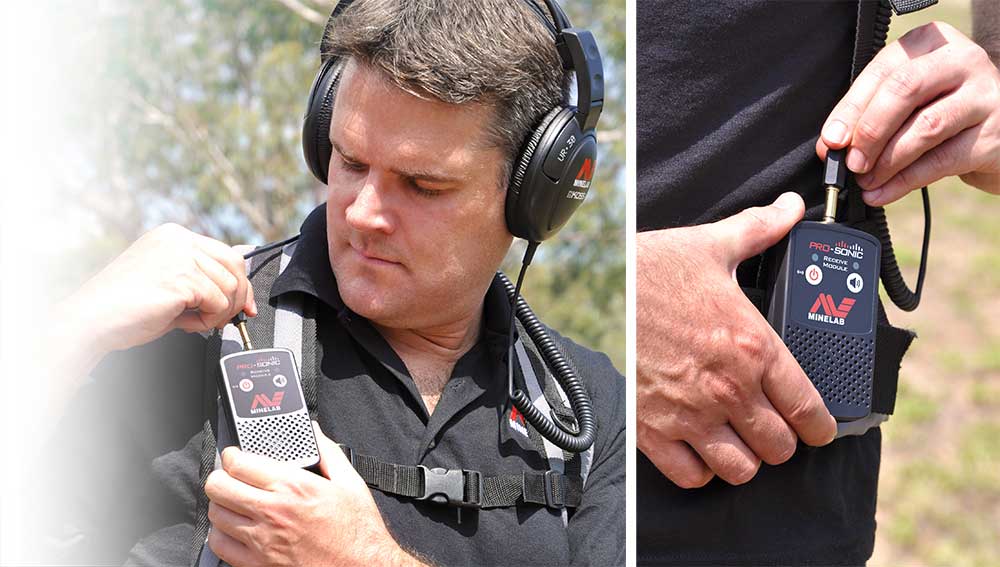 The PRO‑SONIC wireless audio system generates audio using advanced wireless technology to achieve clear sound with minimal perceivable time delay.
The PRO‑SONIC Receive Module features an internal loudspeaker and a 6.35mm (¼") headphone socket for use with your choice of headphones. It can be attached to your harness or clothing using the metal belt clip.
Features:
Use headphones or built-in speaker
Adjustable volume setting
10 m / 32-feet operating range
SDC 2300 adaptor cable included
Charge from your car, AC power or USB charger
Compatible with any detector!

---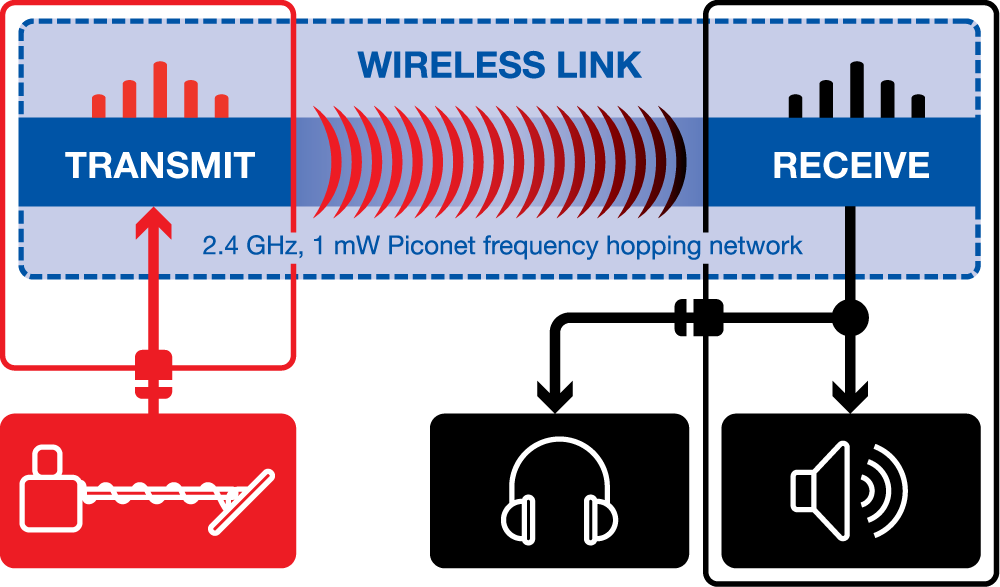 Wireless Technology
The PRO-SONIC Transmit Module sends out low-power (mW) radio waves using the ISM frequency band (2.402 – 2.480Ghz). The PRO-SONIC Receive Module senses these signals and establishes a piconet communication network with the Transmit Module, using frequency hopping to eliminate interference from other wireless devices.
Everything You Need
The PRO-SONIC system contains everything you need for clear, fast, wireless audio.
PRO-SONIC is compatible with any detector, and comes with an SDC adapter cable and a handy car charger for charging on the go.
Receive and Transmit modules
Universal Charger (AC and car charger)
SDC 2300 adapter cable
Transmit Module Audio Cable (6.35mm/1/4-inch)
Dual Charging Cable (1 × USB-A, 2 × USB Micro-B)
Getting Started Guide

---
Specifications
  Specification
Transmit Module
Receive Module
  Radio frequency range
2.402 – 2.480 Ghz
  Wireless range
≤10 metres / 32 feet
  Operating time
10 hours
16 hours
  Stand-by time
50 days
100 days
  RF transmission power
0 – +8dBm
  Audio amplifier power
–
3 W
  Audio distortion
<1% @ 1 kHz
  Response time
<50 ms
  Volume adjustment
–
7 levels
  Size
50mm×35mm×16mm
2″ × 1.38″ × 0.63″
109mm×62mm×22mm
4.29″ × 2.44″ × 0.89″
  Weight
23 g / 0.8 oz
110 g / 3.8 oz
---
"The PRO-SONIC system is easy to set up and gives a clear signal on all my Minelab's. It's also transferable between my SDC and 4500, eliminating annoying headphone cable issues."
 Minelab Field Tester 
PRO-SONIC is now available to order from Australian dealers. Available from outside of Australia from January 2017 onwards.
Compatible Metal Detectors
Doc's Cover Set for Pro-Sonic Sale $19.95