3 or 4 piece Cover Set for GPZ7000 or CTX3030
Manufacturer: #01 Doc's Exclusive Product
Metal Detector NOT Included!
You are purchasing the Control Box Cover, the Control Screen Cover, and the Wireless Module Cover.
It just sort of makes sense to have a cover for a $10,000 metal detector.  Well up until now there was no really great well made extremely durable cover.
However, I am happy to announce the NEW Doc's Gold Screamer® Brand Control Box Cover kit for your GPZ7000 or your CTX3030 machine.
It took 5 months and 6 prototypes to get this cover designed with the quality and the features I demanded that it have.
Doc's Gold Screamer GPZ7000/CTX3030 COVER is the Only MINELAB® Approved and Endorsed accessory cover available on the market
(What this means to you as a consumer, is that Minelab has determined that using this cover provides a significant benefit to the owner as it protects your valuable machine.)
Look at these prospector friendly features:
• Covers are made of durable heavy duty green canvas like material with a neoprene lining to cushion your expensive metal detector.
• The kit includes the control box cover, the control head screen cover, and a cover for your Wireless module.
• Easy access drop down rear panel to easily change the battery without having to take the entire cover off.
• Easy access flap to plug your headphones directly in to the detector secured by hook and loop.
• The bottom of the cover is made with single ply conveyor belt material.  This makes the bottom tough as nails and easy to wipe the dirt and dust off with just a damp cloth.
• The drop down battery access door has been made large enough to accommodate the new larger 14.4 amp hour battery that will also work on the CTX3030 machine.
• Unlike other covers you may have seen advertised this cover is fitted to the contours of the machine it's not some big slouchy ill-fitting bag.
3 Piece Cover Set Retail is $129, Discounted price is $109, plus $10 flat rate shipping and handling inside the United States. 4 Piece Cover Set Retail is $139, Discounted Price is $125 plus $10 flat rate & shipping and handling inside the United States. International orders incur additional shipping charges. See the SECOND ADD TO CART BUTTON below this for International Orders.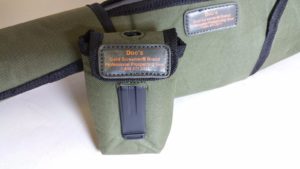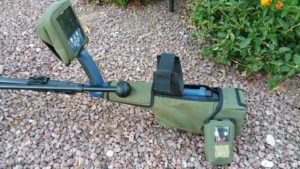 U.S. ORDERS ONLY! Use this ADD TO CART – GPZ7000 / CTX3030 Cover Sets 3 or 4 Pieces SEE DROP DOWN – $10 flat rate shipping in U.S. INTERNATIONAL ORDERS Use LAST ADD to CART