Doc's Covers For Gold Monster 1000 – Doc's Gold Screamer Brand
Manufacturer: #01 Doc's Exclusive Product
Protect that new Shiny Gold Monster 1000.
You can buy the entire Cover Package which includes the Control Head Cover with includes the Coil Cable Wrap Around and the arm cuff cover together, or buy The Control Head Cover with wrap-around included or the Arm Cuff Cover, separately in the ADD TO CART Option drop down.
This package offers protection for your machine as well as comfort for your arm.
• Tough Canvas exterior
• Thin neoprene lining offers insulation from direct sunlight and cushion to protect your detector
• Arm Cuff comes with brand new strap or use the strap you have and keep new one for a spare
• Back of head cover offers a mesh panel over your speaker to let the sound out, and not muffle it
• Good custom fitted cover, not some ill fitted nylon bag
• Coil Cable Wrap around protects your coil cable and eliminates the use of the plastic cable clip on the Gold Monster that can damage the cable.
We have gotten 100% positive reviews on Ebay for this Cover Set. Buy it, use it for 30 days, if you don't like it you are welcome to return pre-paid for a refund less the shipping cost you paid to initially send it to you.
• Gold Monster 1000 Complete Cover Package: Control Head And Arm Cuff Cover $54.95
• Gold Monster 1000 Control Head Cover ONLY $44.95
• Gold Monster 1000 Arm Cuff Cover ONLY $18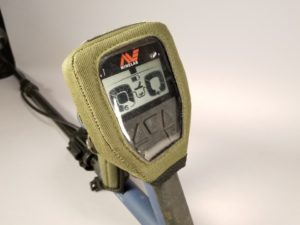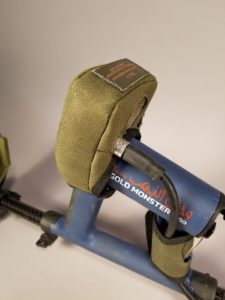 Be smart as a FOX.  Get your Gold Monster Cover Accessories TODAY.
Gold Monster Covers
Use this Drop Down and ADD TO CART
For International Orders ONLY S&H Flat Rate $18