GPX6000 Nugget Stalker® Brand Protective Cover Set
Manufacturer: Nugget Stalker®
INSTALLATION Instructions for your
New Nugget Stalker® Cover for your GPX6000
CLICK HERE to Print Instructions
So you are waiting patiently for your new GPX6000 machine to be released into your sweaty little hands. $6000 for this amazing little piece of technology and you're just going to let it lay around in the dirt? No! Of course not! You're going to pre-order one of Doc's Nugget Stalker® Brand covers. $129.95. 4 pieces counting the removable shade cover. The entire cover package only weighs 8.5 ounces.  (Actually 5 pieces if you count the arm cuff cover strap)
Removable Shade cover makes the screen easier to see.

Just like the GPX6000 these covers will be in short supply initially, so don't delay, be the first to get in line. (I will probably bring in 200 by air to get the ball rolling but the bulk of the thousands I have being made will have to come by boat, and that is going to be a long time-consuming process because of the boats being so backed up.) I just read that Los Angeles usually processes 10 freight boats a day and has 2 anchored offshore waiting their turn. Now they are processing 15 a day and have 35 waiting offshore.
This amazingly well made durable cover has single ply conveyor belt material on the bottom to insure durability and easy cleanup.  Just wipe off with a damp rag.  Elastic stabilizer band to hold coil cable securely in place.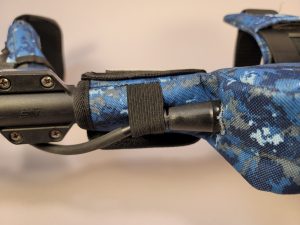 Easy access to remove or insert battery.
U.S. ORDERS ONLY! Use this ADD TO CART Button. GPX6000 Cover Set 4 Pieces plus new arm cuff cover strap.  $12 flat rate shipping in U.S. INTERNATIONAL ORDERS Use NEXT ADD to CART
Nugget Stalker® Brand GPX6000 Cover Set Blue Camo $129.95 plus $12 s&h