Cover Set for your Manticore Metal Detector Highest Quality, Nugget Stalker® Brand
Manufacturer: #01 Doc's Exclusive Product
There are no better covers made for your expensive metal detector than Doc's Nugget Stalker® Brand.
More expensive than other covers? Absolutely!  That's because it's made better than any cover on the market.  This is a well designed well fitted cover, not some sloppy bag someone sewed on their home sewing machine.  Nugget Stalker® covers have a number of detectorist friendly features.
This cover more than pays for itself by just protecting the re-sale value of your valuable detector.

4 Piece Cover Set.  Detachable Shade Cover, Head Cover,  Arm Cuff Cover, New Arm Strap
• Aussie Green Digital Camo pattern with thin neoprene lining to protect your detector.  Thin neoprene protects your detector from direct sunlight that can cause the detector to overheat and have screen black out.
• NEVER! NEVER! NEVER! Buy a BLACK COVER or a cover that does not use an insulated lining or speaker mesh.  Black or dark fabric covers that do not provide adequate heat protection and ventilation can be harmful to your machine. 
• Comfortable Arm Cuff, with just the right amount of padding, color coordinated arm strap. 

• Easily access the connection points in rear. Elastic band to hold charging cable in place.  Mesh over speaker to provide clear undistorted sound.  The mesh is also very important to keep the detector ventilated to avoid overheating.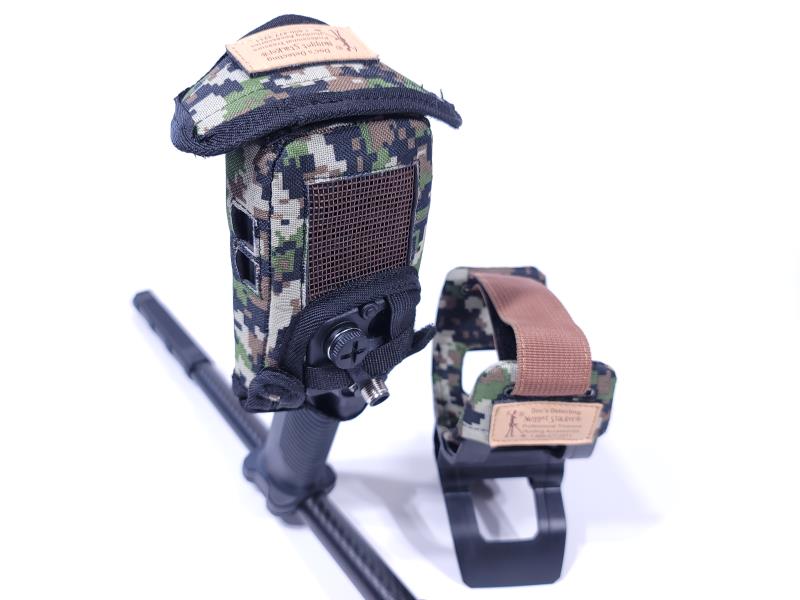 If you find a better well made, feature rich cover than Nugget Stalker® Brand, I recommend you buy it.